What if you could shop online and order items fast, while still supporting small, local businesses?
Want to avoid big, generic stores like Amazon.com, but keep all the conveniences of same-day delivery?
Enter, your new go-to shopping strategy: Google Shopping with Getcho.
Google Shopping allows you to search anything from socks to kayaks, with detailed information such as shipping costs, availability, distance, brand, features and ratings. Plus, on Google Shopping, you can filter your search to only shop with small businesses, minority owned businesses and more!
How to Getcho to support local businesses
Getcho is here to help you order on-demand deliveries at low prices with great customer service. Unlike many other couriers you might encounter, Getcho is peer-to-peer. That means you aren't limited to ordering only from a store or business.
Search Google for same-day delivery.
To find same-day shopping options on Google Shopping, simply filter your search by "Available nearby."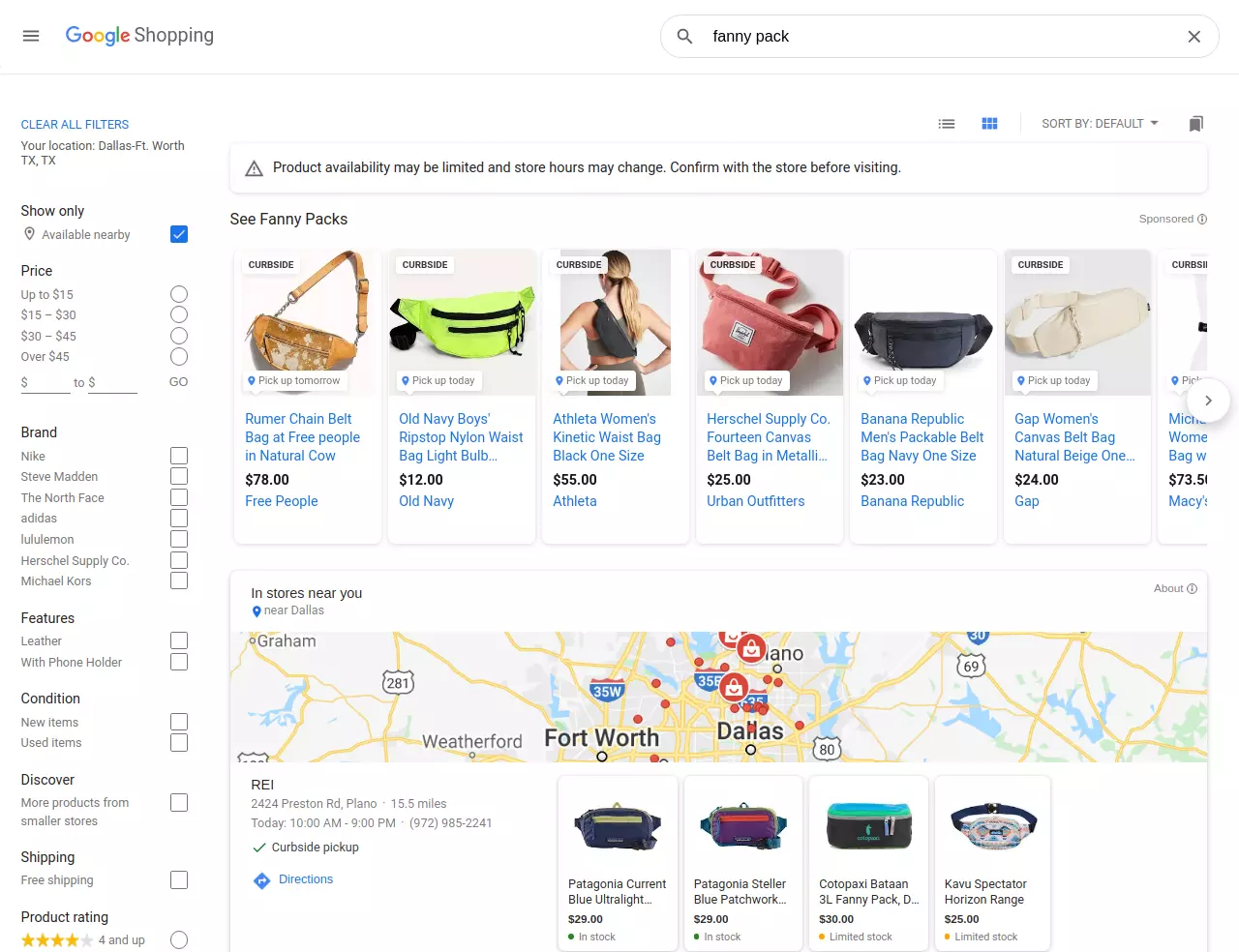 Then, you can peruse a selection of items and stores that you can sort by price, availability, distance.
In order to get your items on the same day, simply pick one that says 'curbside pickup' or 'in store pickup' and Getcho will be able to pick it up for you.
Once you've picked your perfect purchase, use Getcho to have it delivered right away!
Expanding Your Local Horizons
Getcho opens up a world of opportunities to support local businesses in diverse ways. Here are just a few examples of where you can order locally and have it delivered to you using Getcho:
Farm-Fresh Produce: Enjoy fresh, locally grown fruits and vegetables from nearby farms.
Artisanal Goods: Discover unique handmade crafts and artisanal products from local artists and craftsmen.
Specialty Foods: Indulge in locally produced specialty foods like artisanal cheeses, homemade jams, and craft chocolates.
Boutique Fashion: Stay stylish with trendy and unique fashion items from local boutiques.
Books from Independent Bookstores: Support independent bookstores by ordering your favorite reads.
Handmade Jewelry: Adorn yourself with beautifully handcrafted jewelry made by local artisans.
Custom Home Decor: Enhance your living space with custom furniture and home decor pieces from local artisans.
Pet Supplies: Keep your pets happy with supplies from local pet stores.
Why Choose Getcho for Your Business On-Demand Deliveries
Supporting Your Community: With Getcho, you're not just a consumer; you're a local hero. By using this platform, you directly contribute to the prosperity of your community's small businesses. Whether it's the neighborhood bookstore, the family-run farm, or the artisanal craft shop, your purchases make a difference.
Same-Day Gratification: Getcho offers the best of both worlds – swift, same-day deliveries and support for local enterprises. When you spot a product marked 'curbside pickup' or 'in-store pickup,' you can have it in your hands within hours. No more waiting days for packages from distant warehouses.
Convenience: The convenience of on-demand deliveries through Getcho means you can shop without disrupting your schedule.
Insurance: Getcho prioritizes the safety of your deliveries, ensuring that your orders arrive securely and intact.
Peer-to-Peer Model: Getcho's peer-to-peer delivery model ensures flexibility. You're not limited to traditional store hours or restricted by delivery zones. Getcho makes it easy to get what you need when you need it.
In a world where convenience often comes at the cost of community support, Getcho redefines the way you shop. It's a win-win solution that allows you to enjoy same-day deliveries while championing the local businesses that make your community unique. So, why use Getcho for your on-demand deliveries? Because it's more than just a delivery service. Getcho today and experience the difference for yourself.