Same-Day Bike Courier NYC: Your Ultimate Solution for Swift Deliveries
When you're in a bind, whether you've left behind your keys or need an urgent pick-up, New York City can be a challenging maze. Looking for a same-day bike courier? Thankfully, Getcho is your go-to solution. We're not your average delivery service; we're your personal courier for same-day bike courier deliveries in NYC. With our dedicated team of bike messengers, Getcho excels at providing personalized, rapid, and cost-effective deliveries across the city. Say goodbye to the frustrations of delayed deliveries and misplaced packages and say hello to the unmatched convenience of our same-day bike courier services, tailored just for you.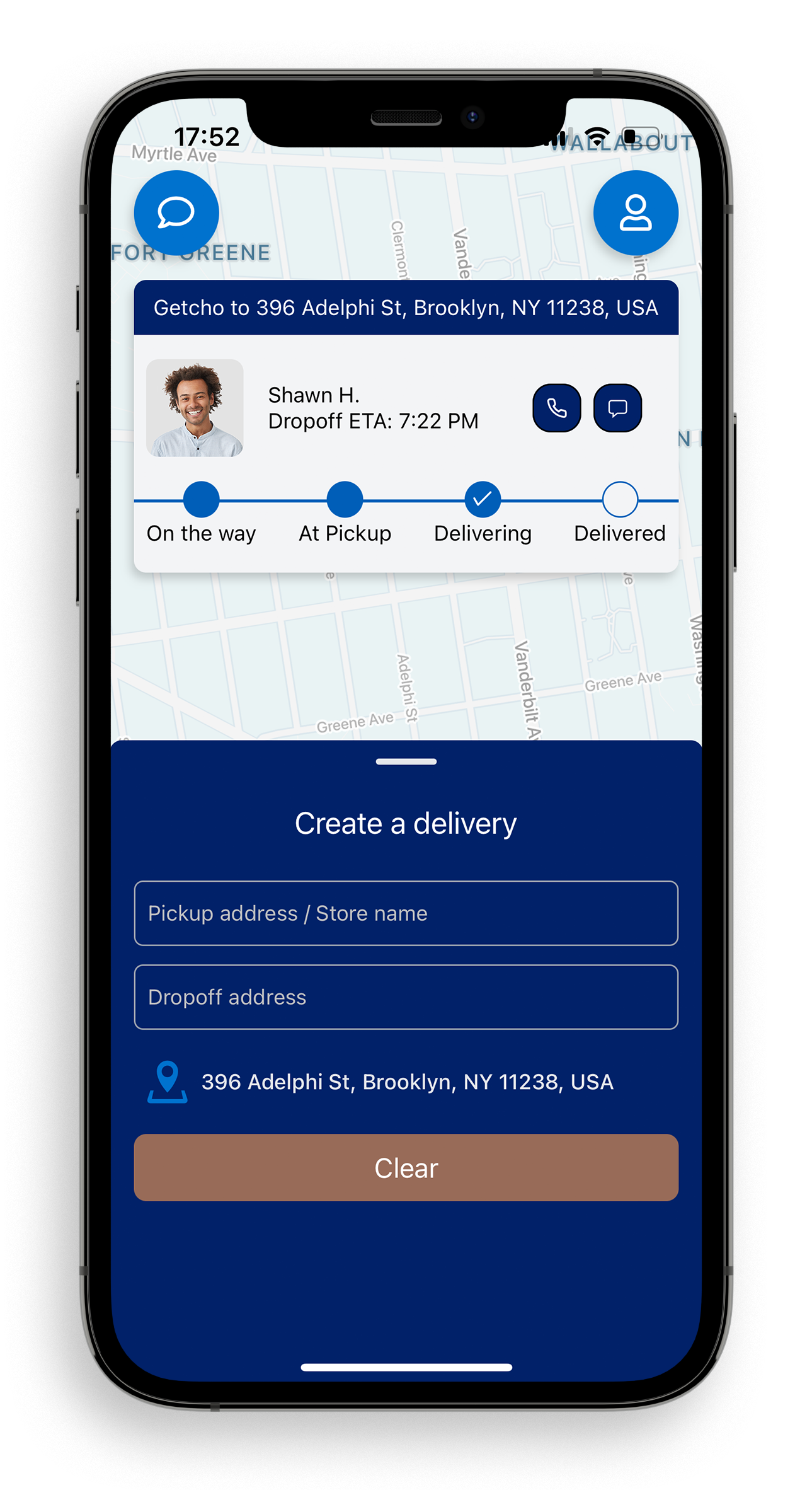 Ordering Your Same-Day Bike Courier with Getcho
Getting precisely what you need, precisely when you need it, is a breeze with Getcho, your trusted partner for all your delivery requirements. Download the Getcho app from the App Store or the Play Store for swift and easy access to same-day bike courier services in New York City. Here's a step-by-step guide on how it all works:
Downloading Getcho
Starting with Getcho couldn't be easier. Simply download the Getcho app from the App Store or the Play Store to access personalized same-day bike courier services in NYC.

Instant Price Quotes
Generate quick quotes for your deliveries without the hassle of creating an account. Just input your pickup and drop-off addresses, and you'll receive instant price estimates alongside estimated delivery times.

Dispatching Your Same-Day Bike Courier
Now that you've specified your pickup and drop-off locations, provide the necessary pickup and drop-off details:

Pickup Details:

Pickup for: Mention the recipient's name for the delivery. For example, if you're retrieving your keys from a friend's house, enter your name here.
Pickup contact number: Share your phone number. This ensures that the bike courier can reach you in case of any issues.
Pickup instructions: Offer any additional information necessary to ensure a successful pickup. For instance, you can instruct, "Meet me at on 5th Avenue and 7th."

Drop-Off Details: Include any relevant notes to assist the courier in finding your drop-off location, such as apartment numbers, special instructions, or any other details that can make the delivery smoother.

Track Your Bike Courier
Getcho will promptly provide you with a tracking link, allowing you to keep an eye on your day bike courier as they navigate the city. You can also contact your courier and check in at any time.
Why Choose Getcho for Same-Day Bike Courier deliveries in NYC
Getcho distinguishes itself as the top same-day bike courier service in New York City for various reasons:
Prompt and Secure Deliveries: Say goodbye to the frustration of delays and lost packages. Getcho guarantees that your items are delivered promptly and securely.
Convenience at Your Fingertips: Getcho puts the power of same-day bike courier services right in your hands with a user-friendly app for seamless, on-demand deliveries.
Exceptional Customer Support: Getcho understands that great customer support is crucial to your peace of mind. Our dedicated support team is always ready to assist you, ensuring a smooth and stress-free experience. Whether you have questions, concerns, or need assistance with your delivery, our team is just a call or message away, ready to provide the help you need.
Real Stories, Real Satisfaction:
Arthur's Special Gift - Jack needed to send a surprise birthday gift to his friend, and Getcho made it happen with a same-day delivery. The courier even wished Arthur a happy birthday.
Sweet Surprise for Sarah - A customer used Getcho to send a box of chocolates to their friend, Sarah, when she wasn't having the best of days. It was a delightful surprise that brightened her day.
Parisian Mug for Jane - Bradley purchased a beautifully crafted mug from Williams Sonoma, and wanted to surprise their girlfriend, Jane, with it. Getcho made it easy for Bradley to have the mug delivered to her, adding an extra touch of love to her day.
Don't compromise on your personal delivery needs. Choose Getcho today for the ultimate convenience in same-day bike courier services in New York City, tailored just for you. Whether it's retrieving forgotten items, home pickups, or local shop deliveries, we've got you covered. Get started with Getcho and experience the difference for yourself.