Getcho: NYC Same-Day Package Delivery Service
In New York, a place where time is of the essence, having a reliable same-day package delivery service is a game-changer. This is where Getcho, the premier same-day package delivery service in NYC, steps in to make your life more convenient and stress-free.
Our same-day package delivery service is designed to cater to the real-life scenarios of this bustling city, ensuring that your packages arrive right when you need them, making your day a little easier and a lot more efficient.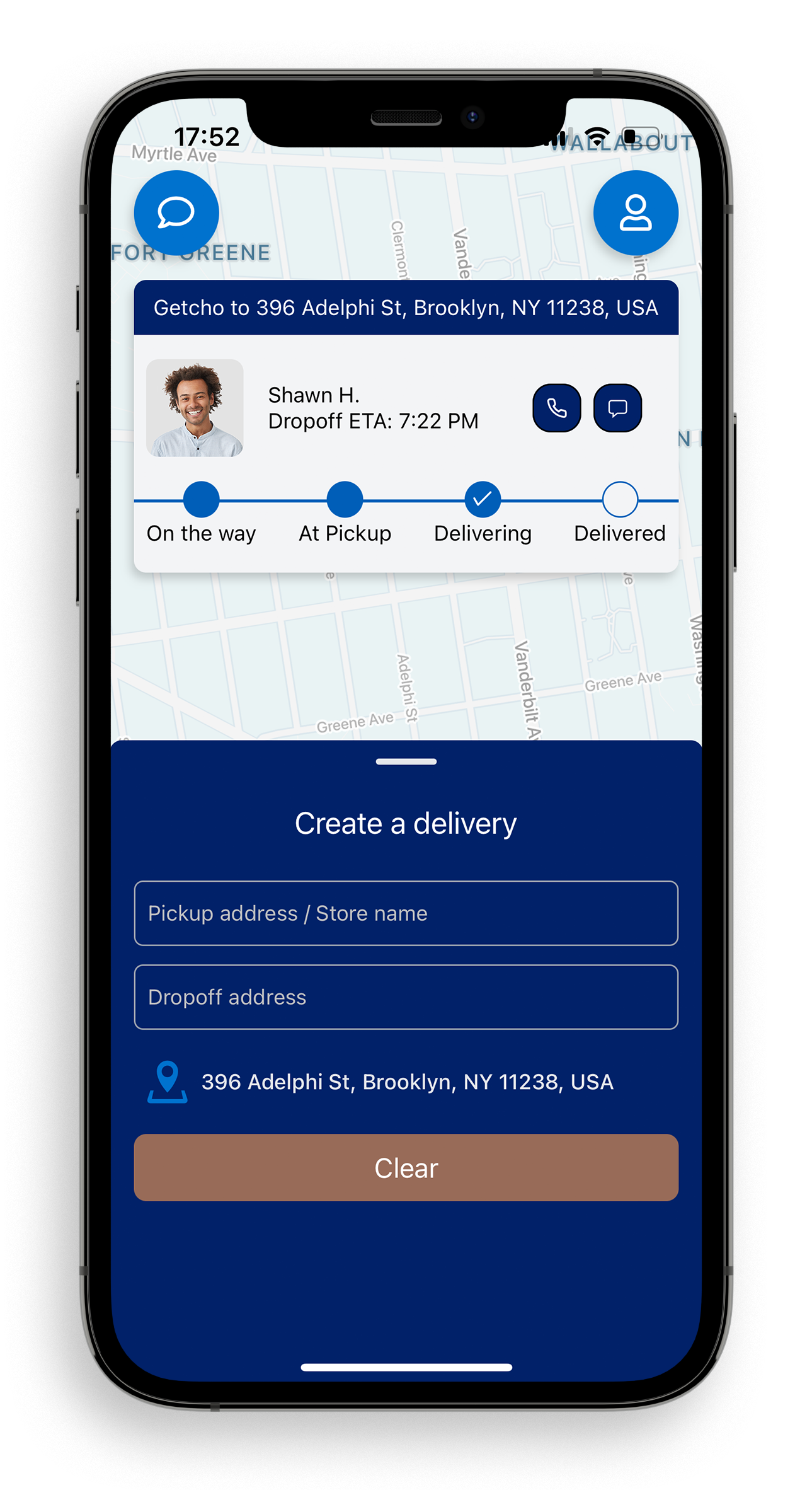 How to use Getcho for same-day package delivery in NYC
If you want to get pricing and estimate delivery times ASAP feel free to play around with our quote generation tool or download the Getcho app.
Downloading Getcho
Getting started with Getcho is incredibly easy. Simply download the Getcho app from the App Store or the Play Store for quick and convenient access to same-day package delivery services in New York.
Generating quotes
You can start creating quotes for your deliveries without creating an account. All you need to do is input the pickup and drop-off address and you will get prices and time estimates instantly!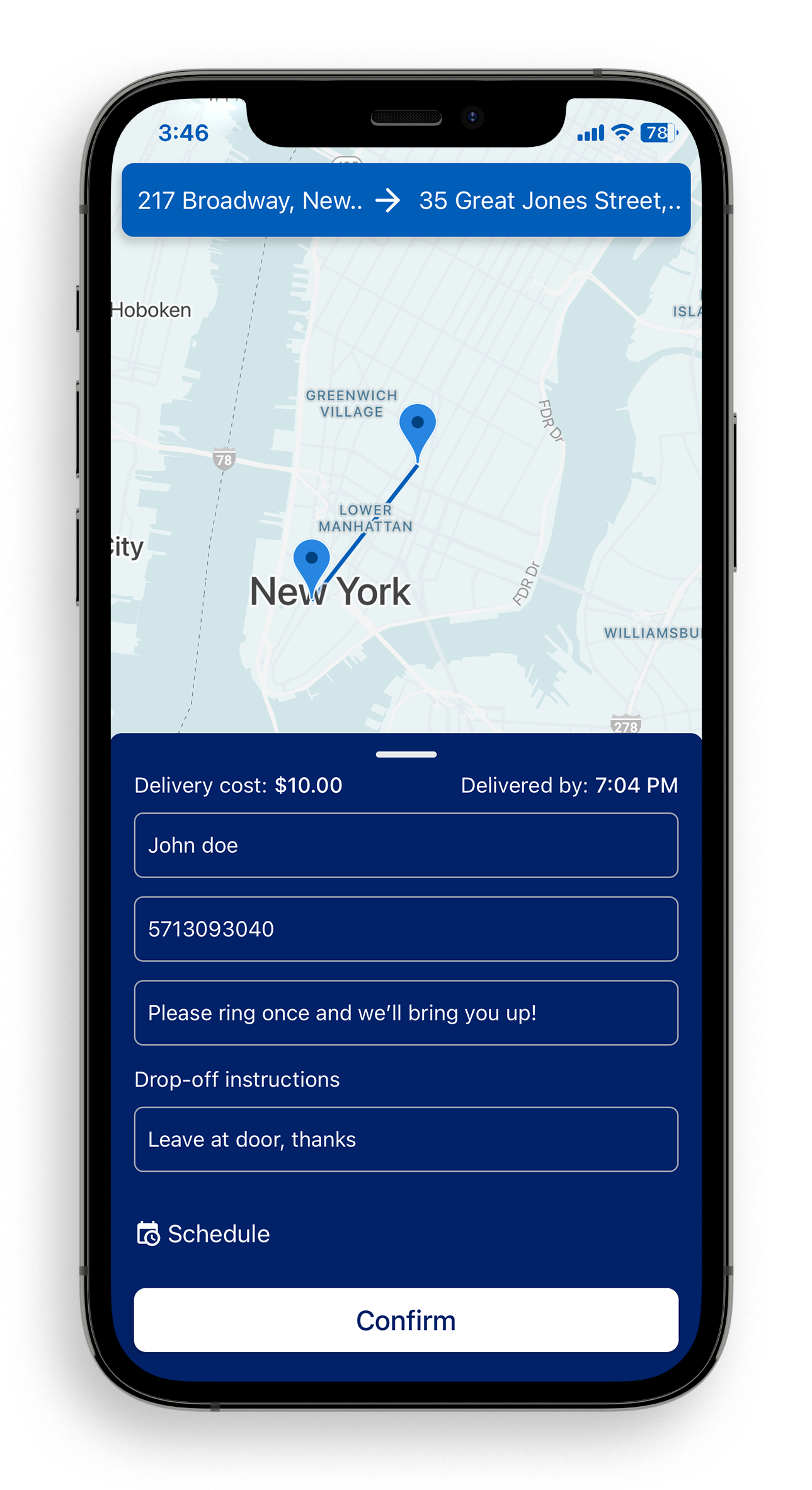 Dispatching your package
Now that you have added your pickup and dropoff address you will need to provide relevant pickup and dropoff information.
Input your pick-up details
Pickup for: Enter the name for whom the delivery is being made. For instance, if you're delivering a gift to your friend Sarah, enter "Sarah" here.
Pickup contact number: Enter your phone number. This will allow the courier to contact you if there are any issues.
Pickup instructions: Please provide any additional information necessary to ensure a successful pickup. For example: "Leave the package at the doorstep if I'm not home," or "Hand the package to the security guard at the front desk."
Input your drop-off details
Please provide any relevant notes to assist the driver in locating your drop-off location. This may include apartment numbers, special instructions, or any other details that can facilitate a smooth delivery.
Done! Getcho will send you a tracking link to view the status of your package delivery. Feel free to contact your driver and check in anytime!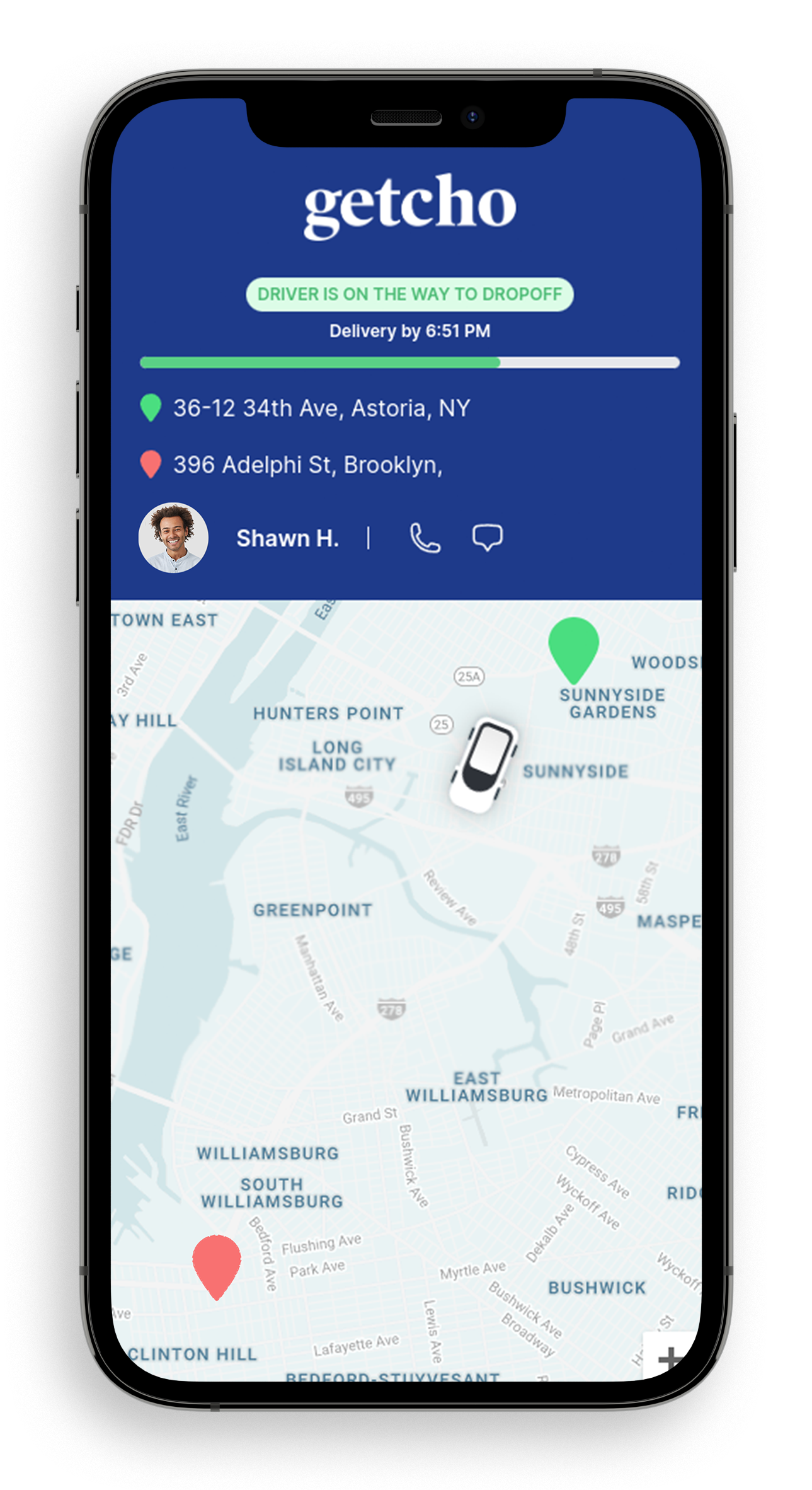 How do people use Getcho same-day package delivery?
Our customers love Getcho for its speed, reliability, and convenience. Whether they are busy professionals, last-minute gift shoppers, or individuals in need of emergency supplies, Getcho is their trusted partner in meeting their immediate delivery needs.
Jane relied on Getcho to have her forgotten laptop charger delivered to her office promptly.
David used Getcho to send a surprise gift to his friend for their birthday, ensuring it arrived on time.
Sophia received her online shopping order on the very same day, thanks to Getcho.
Jack used Getcho to declutter his closet and had clothing items delivered to Goodwill.
So, what will you Getcho today?
Why Getcho is the go-to same-day package delivery service in NYC
Recent Getcho Customer Testimonials
⭐⭐⭐⭐⭐ Asmom1234: "Best Customer Service Ever!! Getcho went above and beyond to help out when I needed a curbside pick up. They helped through the entire process and kept me informed the entire time. I would recommend Getcho for all your courier needs."
⭐⭐⭐⭐⭐ Chachatiff: "Getcha some Getcho! I have used this service three times now and they are rock stars. Today, there was an issue picking up my order and Getcho text me, called the manager of the location and handled everything while keeping me in the loop. I have yet to have any kind of delivery or courier service be this professional, courteous, and on top of things. I will continue to use them again and again! Very fair price and delivered quickly. I'm a forever customer!"
⭐⭐⭐⭐⭐ Marta1996Rose: "Awesome Service & Customer Service. I used Getcho for the first time a couple of weeks ago to deliver a birthday present to my brother. The app was so easy to use, the gift got there on time, and I even had a customer support service messaging me updates on the status of the delivery. 10/10 recommend!"
Getcho is more than just a delivery service; it's your partner in conquering the challenges of everyday life in the city that never sleeps. Same-day package delivery in NYC has never been easier or more accessible. With Getcho, you can rely on your packages arriving swiftly, exactly when you need them. Say goodbye to waiting around and hello to the convenience and speed of Getcho. In a city that thrives on efficiency, we've got your back. Get started with Getcho today and experience the difference for yourself!