NYC Curbside Pickup Delivery: Getcho - Your Last Shopping Solution
Getcho is a on-demand delivery service in NYC that offers to pickup your curbside orders for you! Whether you're looking for the latest trendy Athleisure from Lululemon, stylish shoes from Nordstrom, high-quality appliances from Home Depot, or top-notch outdoor gear from REI, Getcho has got you covered.
What sets Getcho apart is its commitment to providing unparalleled convenience and customer support. No matter how busy your schedule is or where you are located in NYC, Getcho offers same-day delivery, giving you your precious time back.
How to use Getcho for curbside pickup delivery in NYC
The process is simple. You can shop at any store in NYC that offers curbside pickup and use Getcho to dispatch a courier to pick up your order! (PS: We have compiled a list of our users' favorite stores here)
Shopping for a specific item for curbside pickup in NYC
Looking for a specific item rather than a specific store? No problem, we've got you covered:
Use Google Shopping to find your item: Go to Google Shopping and type in the item you need.
Select "Available Neaby": Since Getcho covers up to 20 miles, filter the results by items from NYC stores near you (refer to the image below).
Shop: Scroll through the list and select any item that shows "In-store pickup" or "Curbside pickup".
Get instant quotes: Use our simple online quote generator to receive instant prices and delivery time estimates.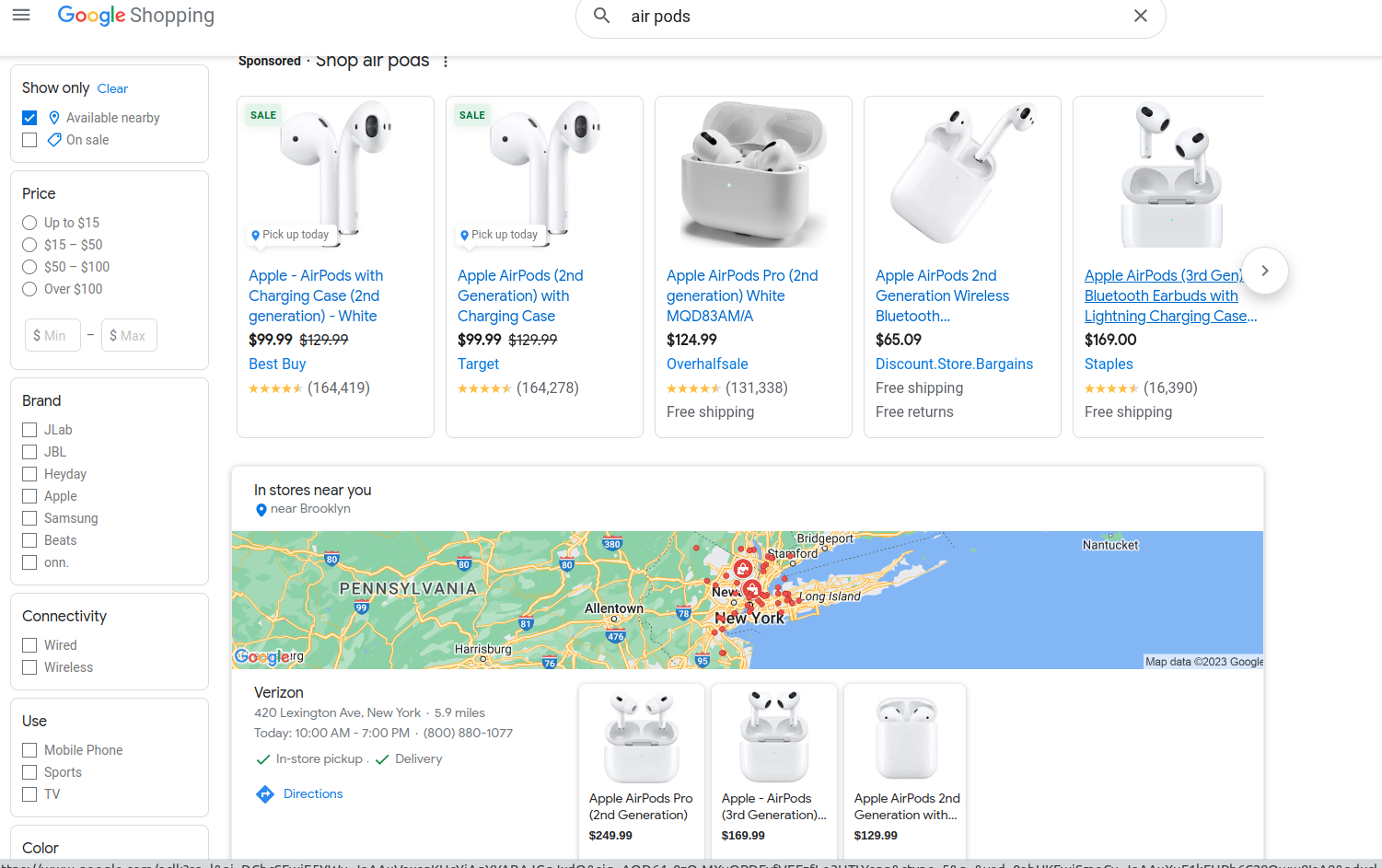 Downloading Getcho
Now, you are ready to get started with Getcho! Simply download the Getcho app from the App Store or the Play Store.
Dispatching your courier
You can start creating quotes for your deliveries without creating an account. Just input the pickup and drop-off addresses, and you'll instantly receive prices and time estimates. Once you're done, provide the relevant pickup and drop-off information.
Input your pick-up details
Pickup for: Enter the name on the order so the driver can easily find your curbside pickup.
Pickup contact number: Enter your phone number. This will allow the bike messenger to contact you if there are any issues.
Pickup instructions: Please provide any additional information necessary to ensure a successful pickup. For example, if the seller provides an order ID, add that information in the "pickup notes." It's also helpful to send a screenshot of the order confirmation to the courier once dispatched!
Input your drop-off details
Please include any relevant notes to help the driver locate your drop-off location. This may include apartment numbers, special instructions, or any other details that can facilitate a smooth delivery.
That's it! Getcho will send you a tracking link to monitor the status of your courier riding around NYC with your curbside pickup. Feel free to contact your driver and check in anytime!
Supporting Local Businesses in NYC through Getcho
Getcho not only offers convenience to shoppers but also supports local businesses in New York City. By leveraging same-day delivery, Getcho helps smaller stores compete with giants like Amazon. It creates a win-win situation where customers can shop at their favorite stores, while local businesses gain additional sales opportunities. With every curbside pickup delivery made through Getcho, you contribute to the growth of your favorite local spots in New York City.
Using Getcho for your curbside pickup needs in NYC
Getcho is changing the NYC shopping experience by bringing the convenience of curbside pickup delivery to your fingertips. Say goodbye to long queues, train delays, parking troubles, and time-consuming store visits. Enjoy your free time by shopping from the comfort of your home or office, knowing that your purchases will be swiftly delivered to you at your leisure. Embrace the power of convenience and discover a new way to shop in the city.