Greenlight Bookstore same-day delivery

Greenlight Bookstore (Brooklyn)
This indie spot boasts a tremendous fiction section, a roomy children's nook, and lots of coffee-table books on hand-built bicycles and other Brooklyn preoccupations. Great author readings, too!
That's how New York Magazine describes one of Brooklyn's favorite indie bookshops, Greenlight Bookstore.
You can find a Greenlight Bookstore in both the Flatbush and Fort Greene neighborhoods. And now, you can use Getcho to retrieve orders the minute they're ready.
Getcho Greenlight
Greenlight offers UPS Ground and UPS Flat Rate shipping options, approximately $12 and $14 respectively. For orders over $125, Greenlight ships for free.
For Greenlight Bookstore same-day delivery, you can use the Getcho app to pick up your order as soon as it's ready. Getcho will send a courier to either Greenlight store and retrieve your purchase.
How to Getcho Greenlight Bookstore
If you need more help with a Greenlight Getcho, just text "Greenlight" to ‪(213) 493-8631‬
Determine if you're closer to the location on Fulton Street or the one on Flatbush Avenue. To be eligible for Greenlight Bookstore same-day delivery, you must be somewhere in Brooklyn.
Search for any title on Greenlight's catalog. When you find what you're looking for, add it to your cart and proceed to checkout.
Under "PICK-UP OPTIONS", make sure to check "I would like to pick this order up from the store". Then select the location nearest you.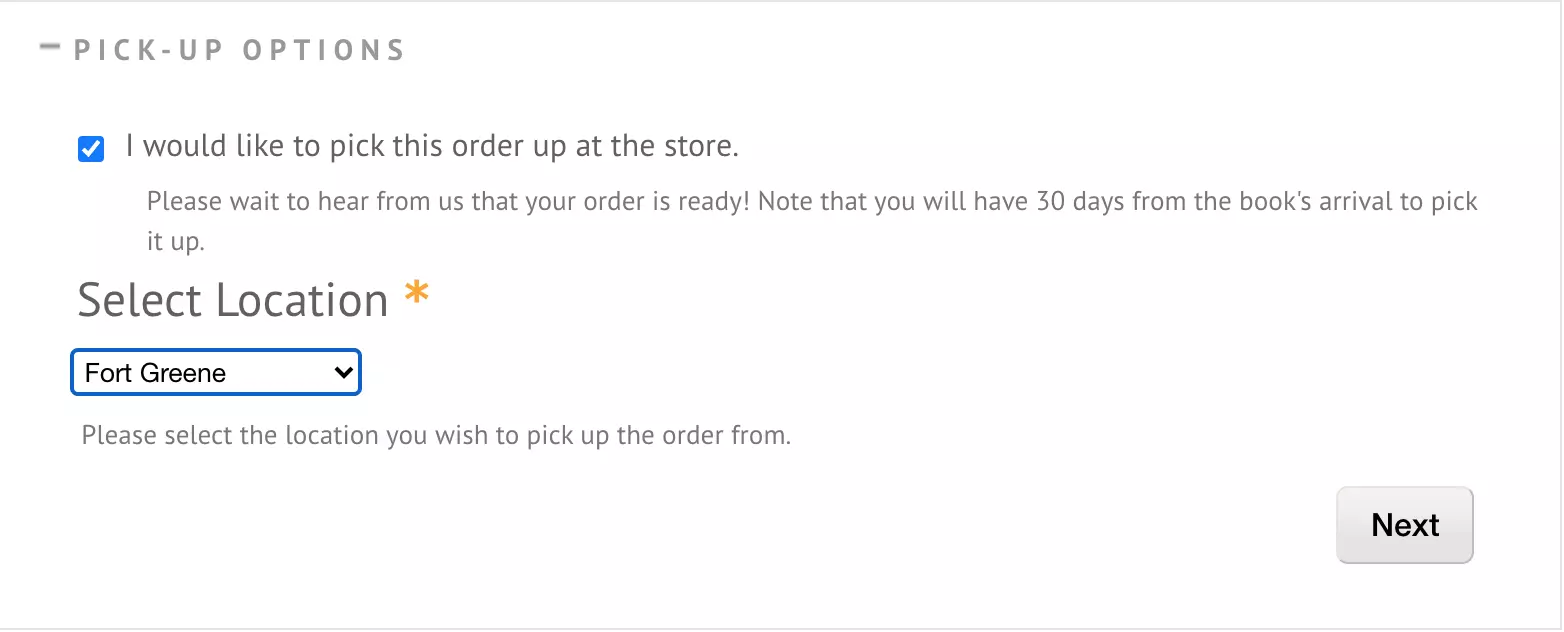 Review your order and purchase. You should receive a confirmation email from Greenlight– that doesn't mean the order is ready yet!
Wait for an email from Greenlight Bookstore letting you know that the book is ready to pickup. Then download the Getcho iOS or Android app, sign-up for free, and order your Getcho delivery. Make sure that the drop-off name matches the name on your Greenlight Bookstore order, and put the order ID from your confirmation email into the pickup notes.
That's it! You'll receive a tracking link where you can follow a Getcho driver retrieve your book. Email support@getcho.app if there's anything we can do to help.
Example book Getcho's
Locations: Arizona, California, Georgia, Idaho, Illinois, Indiana, Iowa, Kansas, Kentucky, Minnesota, Missouri, Nebraska, Ohio, Oklahoma, Pennsylvania, Tennessee, Texas, Washington, Wisconsin
Locations: Austin, TX
Locations: Illinois
Locations: Brooklyn, NY