Books Are Magic same-day delivery
Books Are Magic boasts the #1 foursquare rating for bookstores in Brooklyn. Customers laud the children's book selection, staff picks, and the collection in general. We personally love Books Are Magic's modern website and seamless online catalog.
Getcho Books Are Magic
Shipping charges are as follows: All orders are automatically charged $9.00 for shipping via USPS Priority (2-3 days) If you have a larger order under $100, we will contact you with a final shipping price. All orders over $100 will ship for free.
And now you may send a courier to pick up your order the very same day with Getcho, if you're in Brooklyn.
How to Getcho Books are Magic
If you need more help with a Books Are Magic Getcho, just text "Magic" to ‪(213) 493-8631‬
To be eligible for Books Are Magic same-day delivery, you must be somewhere in Brooklyn.
Search for any title on Books Are Magic's catalog. When you find what you're looking for, add it to your cart and proceed to checkout.

Books that are "in stock", will usually be ready for pick-up the same day. Otherwise, Books Are Magic will let you know how long it will take for the book to be ready.
Select "Pick up in store" on the checkout page.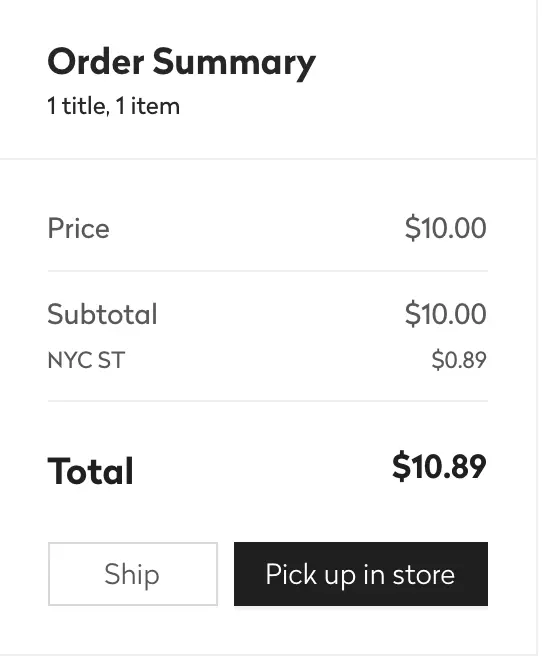 Review your order and purchase. You should receive a confirmation email from Books Are Magic– this doesn't mean the order is ready yet!
Wait for an email from Books Are Magic letting you know that the book is ready to pickup. Then download the Getcho iOS or Android app, sign-up for free, and order your Getcho delivery. Make sure that the drop-off name matches the name on your Books Are Magic order, and put the order ID from your confirmation email into the pickup notes. This will help your Getcho driver locate your order.
That's it! You'll receive a tracking link where you can follow a Getcho driver retrieve your book. Email support@getcho.app if there's anything we can do to help.
Example book Getcho's
Locations: Arizona, California, Georgia, Idaho, Illinois, Indiana, Iowa, Kansas, Kentucky, Minnesota, Missouri, Nebraska, Ohio, Oklahoma, Pennsylvania, Tennessee, Texas, Washington, Wisconsin
Locations: Austin, TX
Locations: Illinois
Locations: Brooklyn, NY (Flatbush and Fort Greene)